DRAAS | DISASTER RECOVERY AS A SERVICE
De Novo provides comprehensive solutions for business critical recovery applications, cloud and local infrastructures (DRaaS), in a short time (RTO) with minimal data loss.
We've developed tools for building a backup IT infrastructure and recovery. The product is designed to keep the IT system functioning in case of partial or even complete failure, preserving all settings, configurations and network topology.
With De Novo DRaaS services it is possible to restore the infrastructure with minimal losses in a very short time from a few hours to a few minutes (using the HPI Private Cloud).
The high level of our DR services and our experts' deep knowledge of disaster recovery tools are confirmed by the VMware DRaaS Powered status. Only 20 other companies in the world have said status.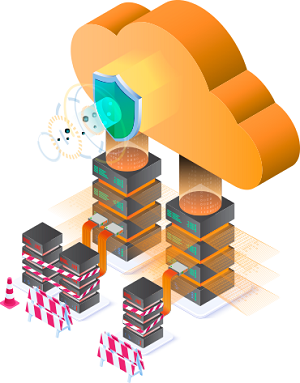 Ціна на цей продукт залишається на «довоєнному» рівні щонайменше до 1 січня 2024 р.
E-book: DR and Backup as integrated business protection tools
DATA REPLICATION CAPABILITIES WITH DE NOVO DRAAS
Native Cloud Disaster Recovery (NCDR) is a full-featured tool for replication and disaster recovery. It operates at the hypervisor level using Change Block Tracking (CBT) technology and uses the VMware asynchronous replication mechanism integrated into the cloud infrastructure.
Application:
Indicators:
Inter Cloud Disaster Recovery (ICDR) is a full-featured replication and disaster resilience tool available on the NG-Cloud and EU-Cloud De Novo platforms. It is possible to manage two platforms from the Cloud Director operating portal. ICDR uses the VMware replication mechanism.
Application:
Indicators:
HOW TO PROTECT YOURSELF WITH DR AND BACKUP? — DENIS EMELYANENKO