HANA-Cloud | Cloud for SAP and HANA
The HANA-Cloud cloud platform is specifically designed to host HANA databases and SAP applications, as well as any other highly loaded business-critical applications. Reliability and compliance with SAP requirements is confirmed by a certificate.
The platform for hosting productive instances of the SAP HANA DBMS must meet the requirements of SAP for the architecture and equipment used. This is a mandatory requirement for access to SAP technical support for SAP HANA operation and performance.
In 2019, De Novo underwent a full-scale audit of operational processes and became the first and only certified SAP provider in Ukraine - SAP Certified Provider of Cloud and Infrastructure Operations.
De Novo has created a separate cloud platform for SAP HANA Production with the SAP HANA Tailored Datacenter Integration (TDI) architecture, which fully meets the requirements for hosting productive instances of the SAP HANA DBMS and is based on SAP-certified equipment.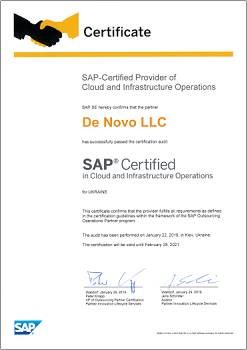 HANA-Cloud Through the eyes of customers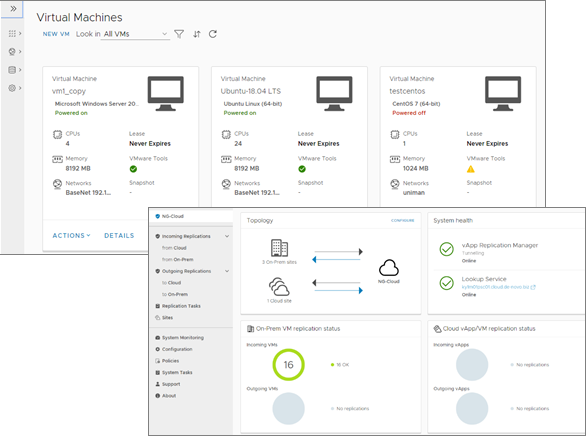 Ultra-large virtual machines 112 vCPU 2.5 / 3.8GHz TurboBoost 1500 GB vRAM
Virtual All Flash drives with high and stable performance: Tier AF / BF - 20K / 5K IOPS (100% random, 32K block size, 70/30% r / w, <3 ms)
40G virtual networks with latency <100 μs
Advanced Edge Gateway features: dynamic routing, SSL VPN, L2 VPN, logging
Advanced security features: Distributed Logical Router (DLR), Distributed Firewall (DFW), trunk interfaces
Advanced operating portal interface
Download Whitebook: IAAS or your hardware? Advantages and disadvantages, calculation of break-even point
Get a Consultation
De Novo offers an ecosystem of cloud products to meet the diverse IT needs and challenges of your business!
Do you feel that you need more detailed information?
Do you want to consult on IaaS service?
Want a specification and calculation of cloud IT infrastructure to meet your business challenges and needs?
Leave an application and boldly ask all the questions you are interested in!
Get free consultation from leading Ukrainian IT specialists!
Are you interested in this page?
We care about the quality and relevance of our services and products, so your opinion is very important to us.
Feedback