IAAS CLOUD SERVICES ECOSYSTEM
De Novo has created a cloud ecosystem with a wide range of IaaS services to address a variety of IT related problems, taking into account the specific requirements of both government and large commercial enterprises.
The cloud ecosystem is designed to transform the client's IT infrastructure, make it more efficient, convenient and flexible. At the heart of the De Novo ecosystem is the customer's infrastructure, as the main element of the enterprise's IT system.
To transform and improve it, De Novo offers a number of cloud platforms for all needs. These are public clouds for corporate clients in Ukraine and Germany, a cloud for the public sector, a private cloud as a service, and a cloud for SAP and HANA database applications.
All clouds are combined into one large ecosystem, thanks to a large number of related services. Additional services provide fast migration, data backup and storage, construction of a backup data center, monitoring of applied landscapes, etc.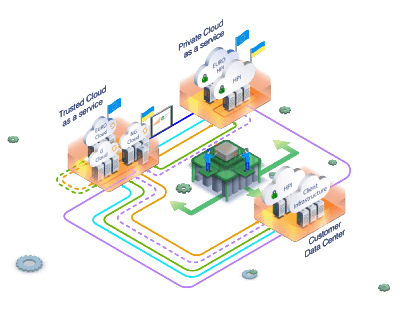 Sovereign Cloud powered by VMware - the guarantee of data protection and compliance with regulatory requirements
Whitebook: IAAS or own hardware? Advantages and disadvantages, calculation of break-even point