IaaS Cloud Services Ecosystem
De Novo has created a cloud ecosystem with a wide range of IaaS services to address a variety of IT challenges, taking into account the specific requirements of both government and large commercial enterprises.
The cloud ecosystem is designed to transform the IT infrastructure, make it more efficient, convenient and flexible. At the heart of the De Novo ecosystem is the customer's infrastructure, as the main element of the enterprise's IT system.
To transform and improve it, De Novo offers a number of cloud platforms for all needs. These are public clouds for corporate clients in Ukraine and Germany, a cloud for the public sector, a private cloud as a service, and a cloud for SAP and HANA database applications.
All clouds are combined into one large ecosystem, thanks to a large number of related services. Additional services provide fast migration, data backup and storage, construction of a backup data center for accidents or catastrophes, monitoring of applied landscapes, etc.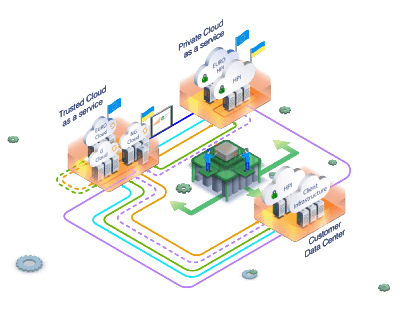 Download Whitebook: IAAS or your hardware? Advantages and disadvantages, calculation of break-even point
Get a detailed consultation
De Novo offers you an ecosystem of products to create an individual infrastructure in the cloud for the needs of your business.
The De Novo ecosystem has a large number of related services available, which provide fast migration, backup and storage of data, construction of a backup data center in case of an accident or catastrophe, monitoring of applied landscapes, etc.
Ask your questions, describe issues.
Our experts will advise how to reduce the cost of IT infrastructure and how to simplify the process of transition to the use of cloud services.
Are you interested in this page?
We care about the quality and relevance of our services and products, so your opinion is very important to us.
Feedback