App Launchpad
App Launchpad is a service for DevOps developers and engineers that allows you to quickly and easily deploy complex application landscapes from App Catalog templates (both in the format of virtual machines and containers) and manage them without the need for detailed knowledge of basic infrastructure settings. App Launchpad is integrated directly into the Cloud Director operating portal.
Using App Launchpad, developers and DevOps engineers can launch applications to VMware Cloud Director in seconds.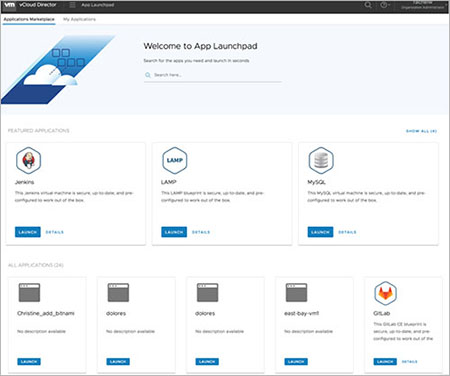 Ціна на цей продукт залишається на «довоєнному» рівні щонайменше до 1 січня 2024 р.
App Catalog
Catalog of ready-to-use applications in the format of virtual machines and containers. There are about 180 templates. Templates are always relevant, safe and designed to work directly "out of the box". The templates meet industry standards and all components and libraries are constantly monitored for vulnerabilities and critical updates.
The App Catalog is updated automatically and always contains the latest versions of templates.
Templates in the format of virtual machines can be deployed by standard tools for managing templates and directories of the Cloud Portal operating portal or using the App Launchpad. To deploy in container format, you must have a Kubernetes cluster created using the Cloud Containers Infrastructure (CCI Basic) service and use the App Launchpad service.
The service is free. Only IaaS resources are paid.